Next cut your wider border fabrics. Mine are cut as 11in x 4in.
Start with the top piece and sew from the edge of the large border to the beginning of the bottom square of the inner border. Do this for three sides.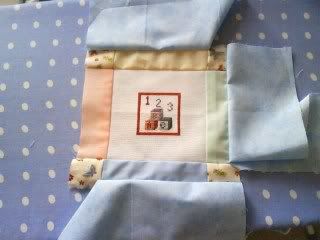 Then sew down the final panel all the way down.
And sew up the rest of the gaps.
As you can see mine are a little long so I then trimmed the edges. I have also overlocked them.
Sorry if come pf the photos are of a different cushion, when I did the second I thought it would be easier to show it at intervals.